Sacramento, California – November 15, 2023— Rock Your Mocs (RYM) is a week-long worldwide social media event designed to share Native and Indigenous pride. Originally set for just one day, November 15th, it has now been extended to a week giving schools and other organizations an opportunity to participate. This year's RYM event runs from Sunday, November 12th to Saturday, November 18th.  

What started as a Facebook event for friends of founder Jessica Jaylyn Atsye (Laguna Pueblo, NM) soon turned into the worldwide social media event it is today. Rock Your Mocs began in 2011 when founder Atsye, at only 19 years of age, created an online event to share Native pride with her friends and other invitees. Not realizing that the event was public, news quickly spread, and many organizations began promoting it. Through the encouragement of her mother, Jessica continued to develop and host the event. Two years later in 2013, she connected with Melissa Sanchez (Acoma/Laguna Pueblos, NM) and Emmet Garcia both of Emergence Productions. Having worked with them in the past, everything fell into place, and she was able to gain the help she needed to manage this new movement. In collaboration, Jessica, Melissa, and Emmet workshopped the meaning and goals behind Rock Your Mocs. 
It has come to bridge the gap between older and younger generations, created space for Native voices, and served to unify Native American, Indigenous, Aboriginal, and Alaskan Natives around the world. "Indigenous People have worn moccasins for centuries. Different tribes have distinct styles and practices, ranging in height from ankle to knee. While there are many variations of moccasins, they all play the important role of protecting feet from rough terrain and practicing our traditions." – Manuel Luna (Wukchumni, Chiricahua Apache), SNAHC Community Health Program Manager. 
Britta Guerrero (San Carlos Apache), CEO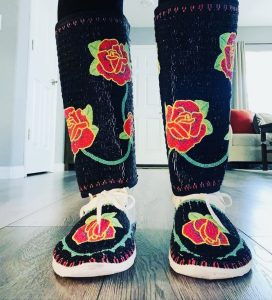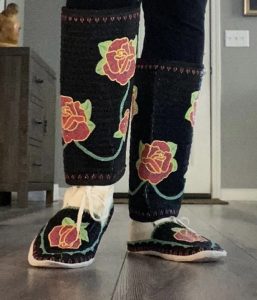 "These fully beaded leggings and moccasins were made for me by my Auntie. When I put them on, I am wrapped in the love and prayers that went into placing every bead. I feel adorned in the love that can only be experienced between an Auntie and her favorite niece. They are as beautiful as the lives we share. Every day I walk, regardless of what I'm wearing, toward the dreams that she has for me." – Britta Guerrero
Sacramento Native American Health Center is a non-profit 501(c)(3) Federally Qualified Health Center committed to continue and share the legacy of a healthy American Indian / Alaska Native community based on cultural values delivered through a traditional, innovative, and accessible patient-centered health home. SNAHC offers primary care, oral health, behavioral health, specialty, and supportive services. We are open to all, and all are welcome. For more information on SNAHC, visit www.snahc.org or call 916-341-0575 for an appointment.   
# # #