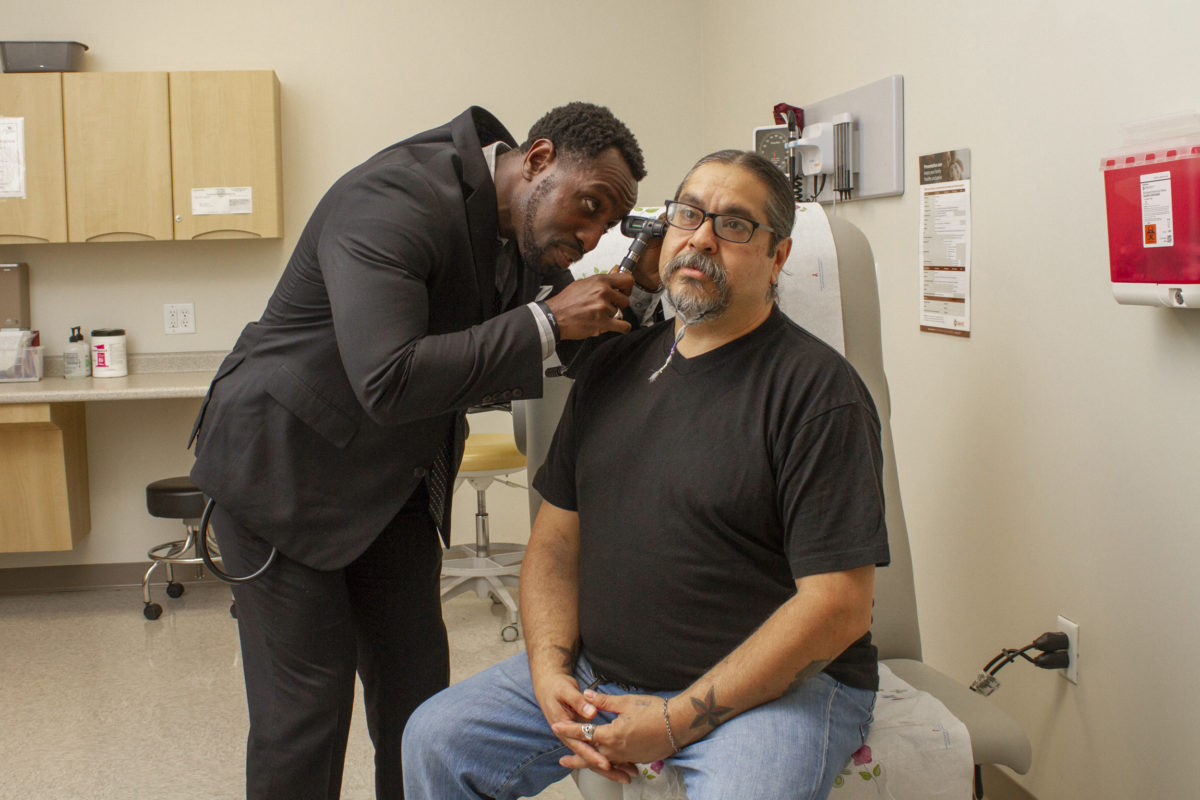 If you are experiencing a medical or psychiatric emergency, dial 911.
To make an appointment, call 916-341-0575. Are you an existing patient?
The Medical Department provides comprehensive health care for adults and children.  At SNAHC we focus on treating the whole person by tailoring each patient's particular needs with the best therapy available.  We specialize in the diagnosis and evaluation of both acute and chronic illnesses.  In addition, a strong central focus of our treatment is prevention.  From diabetes education to cancer screening, SNAHC offers preventative counseling and testing for all patients.  At SNAHC we have a full clinical lab and we will help you with applying for Medi-Cal and Social services.  We are a community health center that is designed to be a home for medical care for you and your family.   We encourage you to make an appointment today.
MESSAGE FROM THE DIRECTOR:
DR. HAKEEM ADENIYI, MD
Hello and Welcome to SNAHC. The Medical Department stands ready to celebrate a new evolution.  We have teamed up with many departments to give each patient the best care through development of almost every aspect that enhances patient care.  We are happy to work with many programs, administrators, and outside agencies to enhance the patient experience and care.  The Medical Department is proud to have a new state of the art facility and a new EMR system that will help waiting time, provider and patient experience, and provide better documentation.  SNAHC has re-branded ourselves in every way and we look forward to sharing this wonderful and exciting moment with our patients and beyond.
Schedule an appointment today by calling 916-341-0575. We look forward to working with you to meet your health goals.
ADULT MEDICINE
General medical and preventative services
Management of chronic and serious medical problems including heart disease, stroke, and diabetes
Preventative care for breast, colon, and prostate cancers
Hepatitis C testing, treatment, counseling, and support groups
Diabetes education, prevention, self-management, and support groups are available
Comprehensive nutritional education and dietary counseling
Confidential HIV testing and counseling
Treatment for many common mental health illnesses
Transgender Care – Hormone Therapy
Traditional Medicine
Community based vaccination program
COVID-19 vaccinations
PEDIATRICS
Newborn and well-baby care
Immunizations and school physicals
Urgent appointments for sick children
Complete annual checkups
TEEN HEALTH CARE
Pregnancy prevention
Confidential HIV and STD testing and counseling
WOMEN'S HEALTH CARE
Comprehensive women's care including Pap smears, breast exams and mammography referrals
Family planning
Pregnancy testing
Acute and Chronic Gynecological Problems
Insurance Plans
We accept the following plans: Medicare, Medi-Cal, Anthem Blue Cross River City Medi-Cal, Molina Medi-Cal, Health Net River City Medi-Cal, and most private insurance plans. Please note, we only bill private insurance for our Native patients; these are typically considered out of network provider visits as we do not contract with private insurance companies. We are also a Family PACT and Every Woman Counts provider.
Office Visits
So that we may provide you with the best possible service, please be aware of and accept the following guidelines:
When calling for routine appointments, please call several weeks in advance to allow for scheduling.
When making appointments for a sick family member, call early in the day and have available pertinent information (such as the family member's temperature). If your family member has a chronic condition or complicated medical history (such as physical, emotional or behavioral problems), please inform the appointment secretary so that we can schedule the appropriate amount of time. SNAHC makes every attempt to schedule same day appointments, however availability may be limited.
If you feel your family member is contagious (chicken pox, measles, etc.), please notify us at the time of making the appointment. We might make arrangements for you to enter the clinic through a door other than the front entrance.
Please have a list of all of your prescriptions available to discuss with your provider and write down your questions prior to coming to the appointment. Make sure your questions are answered and that you understand the answers.
If cancellation of an appointment is necessary, please call SNAHC a minimum of 24 hours as far in advance as possible.
We make every attempt to see scheduled patients on time.  Please understand that situations involving emergencies do arise that may be beyond our control and may be disruptive to the schedule.
Immunizations
SNAHC has made every effort to provide and administer to you and your family a complete and up-to-date set of Immunizations for both Childhood and Adult Immunizations.  Please bring your family member's immunization records on your first visit.  
After Hours Emergency or Illness
If you or a family member is experiencing a medical or psychiatric emergency, call 911. If your family member becomes ill or is injured after clinic hours, call 916-341-0575. You will then be put in touch with our answering service, which will then contact the SNAHC's Nursing Triage Service. They will call you to discuss your options.
To make an appointment, call 916-341-0575. Are you an existing patient? Click here to access our Patient Portal.